READ OUR CHARTER
AGB CHARTER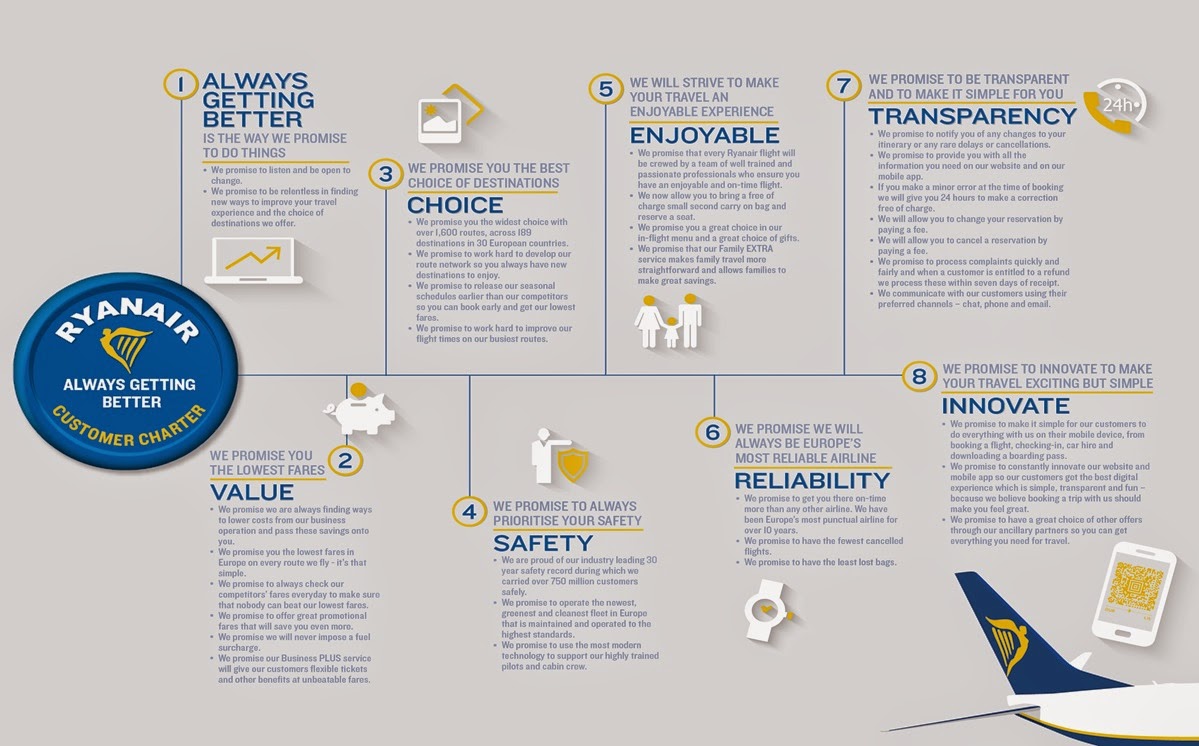 RYANAIR'S LOWEST FARES AND PASSENGER SERVICE CHARTER
Ryanair believes that any worthwhile passenger service commitment should involve commitments to low prices and high punctuality. That's why Ryanair publishes its Customer Service Statistics each month and these confirm that Ryanair is Europe's No. 1 for Customer Service with unbeatable prices and punctuality.
RYANAIR PRICES, PUNCTUALITY AND SERVICE COMMITMENT
Ryanair commits to:
Offer the lowest price at all time on all routes:

Ryanair will continuously offer the lowest available prices to all passengers, on all routes on which we operate, regardless of which other airlines compete on those routes.
Passengers will always be offered the lowest available fare for their particular journey and itinerary at the time of booking through our website at Ryanair.com.
Ryanair will inform the passenger about the Terms and Conditions which apply to the fare chosen and any applicable taxes, fees and charges before payment is made.
If we become aware at any time of any competitors' special offer fare which is lower than Ryanair's, we will immediately lower our prices to ensure that we are lower again.

No fuel surcharge guaranteed
Ryanair will not impose a fuel surcharge on any passenger.
Honour the agreed fare after payment
After payment for the ticket has been made, no fare increase will apply.
Notify passengers of known delays, cancellations and diversions
Ryanair will notify passengers via the internet, email, text messages, at the Airport, or on board flights if they are affected by flight delays, cancellations or diversions.
Minimise the numbers of passengers facing delays

Ryanair will continuously strive to be the No.1 on time airline on all routes. Comparisons with the most recent punctuality statistics released by the Association of Europe's High Fares Airlines (AEA) confirm Ryanair's position as No.1 in Europe for punctuality. Ryanair passengers can be confident that they will suffer fewer delays than any other major airline in Europe.
Ryanair presently misplaces less than one bag per 3,000 passengers carried. This is the lowest of any European airline. Ryanair strives to further reduce this figure with an ultimate target of zero lost/mishandled bags. In the case of mishandled bags, Ryanair will make every reasonable effort to deliver the mishandled bag to the passenger within one working day of its arrival at final destination, free of charge.

Allow reservation changes
Unlike the high-fare airlines, Ryanair permit all tickets to be changed upon payment of an appropriate change fee and any fare upgrade (if applicable). This ticket change facility allows Ryanair customers to change their, flights times, dates, route (within the same country) or the names of passengers travelling and avoid the loss of their original tickets if they cannot travel as originally scheduled.
Respond quickly to passenger complaints and provide prompt refunds

Ryanair enables passengers to forward their claim/complaints via post, fax or web form.
Under normal circumstances Ryanair will provide a substantive written response to complaints within 7 working days of receipt. We do not expect passengers to wait over 28 working days, as is the case with other high fare airline's passenger service commitment (e.g. British Airways).
Where a passenger claims and is entitled to a refund, Ryanair will issue that refund within 7 working days of approval.

Speed up check-in
Ryanair operates an Online Check-In facility which allows passenger avoid all airport check-in queues and go straight to the boarding gate where they can enjoy priority boarding to the aircraft. Online check-in is available up to 4 hours before travel. Ryanair will continue to implement measures to speed up passenger check-in, and reduce transit times through airport buildings.
Minimise involuntarily denied boarding
Ryanair is the only airline in Europe that does not overbook its flights; therefore Ryanair has eliminated the possibility of passengers being denied boarding due to overbooking. However if for technical or immigration reasons, it becomes necessary to accommodate passengers on another flight, Ryanair will try to prioritize the needs of and minimise the delay to those passengers effected and provide compensation in line with Regulation EU261/2004.
Provide Passenger Information

All passenger information at all times is provided on www.ryanair.com.
Ryanair will try at all times, to ensure that all passengers are travelling on a Ryanair aircraft and are provided with a Ryanair service.
Ryanair will not enter into alliances with other airlines so that we can pretend we fly to destinations that we actually don't or charge high fares.

Information to passengers at the time of booking

The scheduled departure and arrival time of the flights
The Airport/Terminal of departure and arrival
The Terms and Conditions attached to the fare
Summary
We call on all EU Governments and the EU Commission to deliver to airline passengers what they really need, namely substantive commitments on lower prices, on punctuality and on key services, by making it mandatory that all EU airlines publish their Customer Service Statistics each and every month.