2019 Partners
Customers can offset the carbon cost of their flight by making a voluntary donation to our climate charity partners at the end of the booking process. We have partnered with First Climate, Renature Monchique, Native Woodland Trust and Irish Whale & Dolphin which carry out projects in Uganda, Portugal and Ireland respectively. Read more about each of our partners by clicking on their logos below:




Europe's Greenest Airline
Operating the youngest fleet in Europe, high load factors and efficient fuel burn, has enabled us to continuously lower our CO2 emissions to become the greenest airline in Europe. We are the Number 1 for Carbon Efficiency and we will continue to lead the way.
Read our Environmental Policy here.
Ryanair's CMO, Kenny Jacobs said: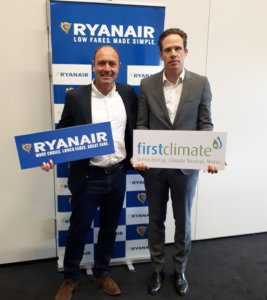 "We are delighted to announce our first ever environmental partners, supporting four great projects across Europe and Africa. More than €1m will be donated from our customers and Ryanair to our partners – First Climate in Uganda; Renature Monchique in Portugal; Irish Whale & Dolphin Group and Ireland's Native Woodland Trust.

At Ryanair, we are committed to minimising our own environmental impact.We are already Europe's greenest airline, operating the youngest fleet (average age of six years) with the highest load factors. With this latest initiative we continue to lead the way, and we encourage our customers to support these exciting partnerships by making carbon offset donations when booking flights on the Ryanair.com website."
Climate Targets
We commit to reducing our CO2 emissions to 61.4g per pax km by 2030 – 8% lower than our current levels and 66% lower than 2000.We support IATA's 2050 target to reduce aviation sector emissions by 50% versus 2005 levels.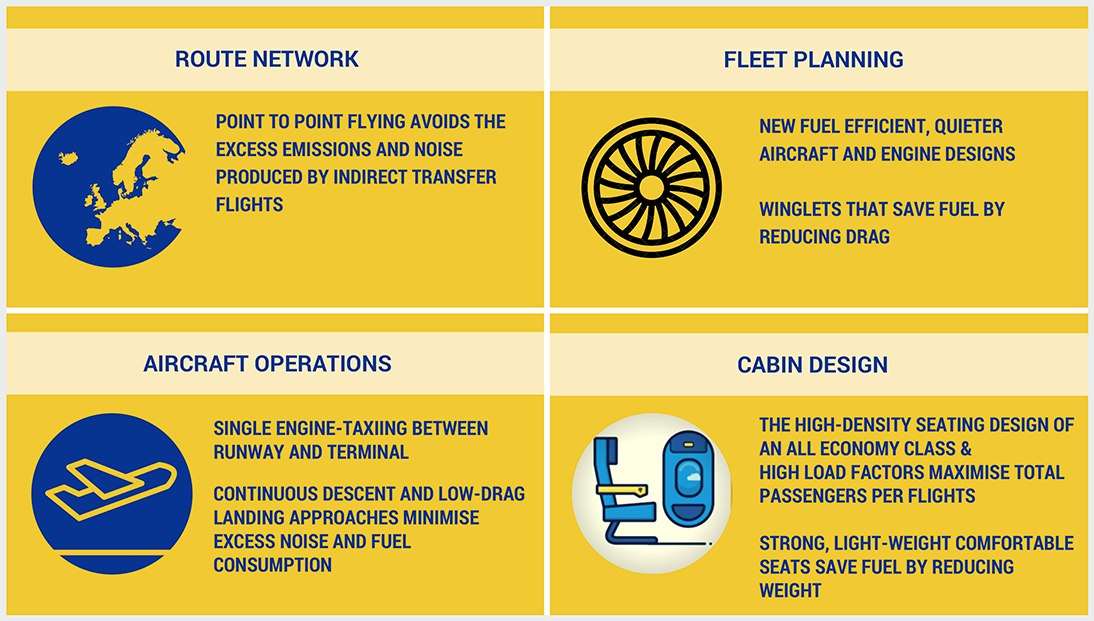 Aircraft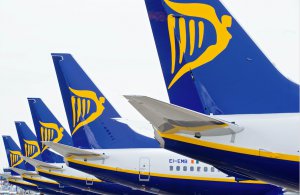 Our fleet is made up of the youngest, most fuel efficient, quietest aircraft around. Our new Boeing 737-MAX aircraft, which come on stream from 2019, will reduce noise by up to 40% per seat, and fuel consumption by up to 16%. This will reduce our noise footprint per passenger by 93% compared with our old 727-200 fleet. Winglets on our planes reduce fuel burn and CO2 emissions by 4%.  Our lightweight seats reduce fuel burn by 1% per aircraft. The high-density seating design of an all-economy class & our industry-leading load factors maximise the total number of passengers per flight.
Voluntary Carbon Offset
Customers can now offset the carbon cost of their flight by making a voluntary donation to a climate charity at the end of the booking process, with the funds raised going to support certified climate change projects, chosen by our people.
Priorities
Ryanair is committed to minimising our environmental impact. Through a process of continuous improvement, we will:
Continue to comply fully with the environmental rules, regulations, standards, and codes of practice that apply to our sites, our people and operations;
Limit the impact of aircraft noise on local environments; Our new Boeing 737-MAX-200 arriving in spring 2019 will further reduce noise by up to 40% per seat;
Minimise fuel and energy consumption to limit our emissions of greenhouse gases and pollutants impacting air quality;
Commit to achieving an emissions rate of 61.4 grams of CO2 per passenger km by 2030, which is 8% lower than our current rate and 31% lower than the average of the four other biggest European airlines;
Offer our customers an easy-to-use voluntary mechanism to offset the carbon cost of their journeys.
Work to remove all non-recyclable plastics from our operations over the next 5 years.
Why Ryanair?
Aviation is the most efficient form of mass point-to-point transport, accounting for just 2% of EU man-made CO2 emissions. (Road transport is 26%). The fuel burn per passenger km for a Ryanair aircraft is 0.019l, 44% less than the fuel burn per passenger km of a typical family car2 of 0.034l.
Nevertheless, as a very small part of a big problem, aviation must play its role in addressing climate change; and Ryanair, as Europe's largest and most successful airline, is committed to leading the way. We support the Paris Agreement to limit global temperature rise to less than 2°C above pre industrial levels. We support IATA's 2050 target of an aviation sector that emits a net 50% less CO2 against 2005 levels.