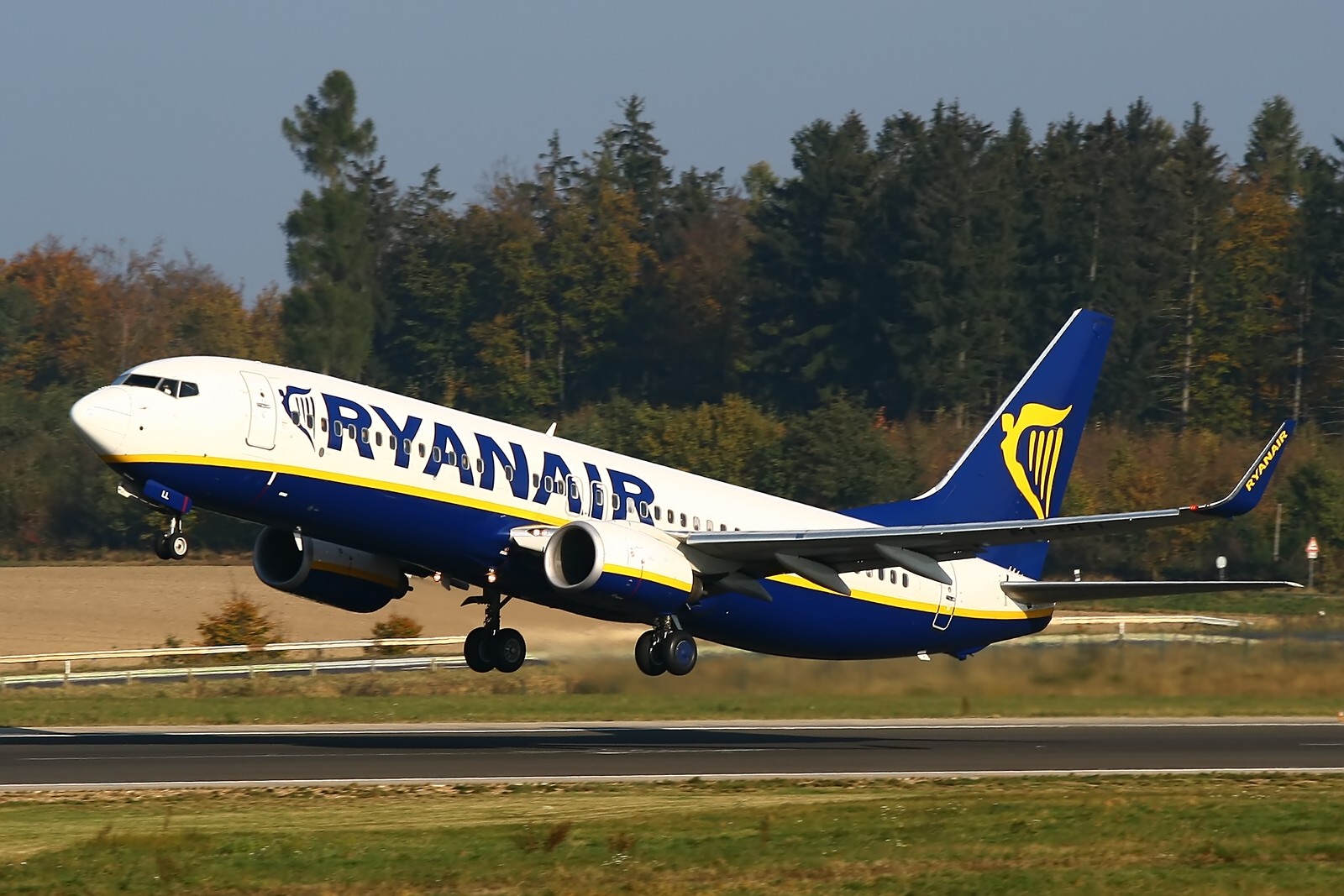 H1 Results
Ryanair Cuts H1 Fares By 5%, Profits Rise 11%
Traffic Grows 11% As Q2 Load Factors Improve To 97%
FY Profit Guidance Unchanged
Ryanair, Europe's No.1 airline, today (Oct. 31) reported an 11% increase in H1 profit to €1.29bn.  Traffic grew 11% to 72m thanks to a strong Easter and a 5% reduction in airfares saving customers over €160m in the half year. Unit costs (including fuel savings) fell 5%, ex-fuel unit costs were flat.
| | | | |
| --- | --- | --- | --- |
| H1 Results (IFRS) | Sept 30, 2016 | Sept 30, 2017 | % Change |
| Customers (m) | 64.8 | 72.1 | +11% |
| Revenue (m) | €4,132 | €4,425 | +7% |
| Profit after Tax (m) | €1,168 | €1,293 | +11% |
| Net Margin | 28% | 29% | +1pt |
| Basic EPS | €0.92 | €1.07 | +16% |
Ryanair's Michael O'Leary said:
"These strong H1 results reinforce the robust nature of Ryanair's low fare, pan-European growth model even during a period which suffered a material failure in our pilot rostering function in early September. Prior to this event, we were on track to deliver strong H1 results during which we opened 3 new bases and 80 new routes. We took delivery of 35 new B737's in the first 6 months of 2017, we stimulated 11% traffic growth with 5% lower airfares, and achieved an industry record load factor of 97% in the peak summer months.
Ancillary Revenue grew 14%. Customer spend rose 2% as more customers chose optional services such as reserved seats, priority boarding and car hire. H1 unit costs fell 5%, excluding fuel it was flat (but would have fallen 2% without the EU261 provision). Despite traffic growth of 11% our fuel bill fell 3%. Most other cost headings were broadly flat on a per passenger basis, other than our "Sales, Marketing & Other" which jumped 30% due to a one-off €25m EU261 provision, as we quickly addressed the needs of affected customers in September to recover the rostering failure, and eliminate any risk of further cancellations.
Our balance sheet remains strong. Operating activity in H1 generated over €935m of net cash. We used this for net capex of €675m, share buybacks of €639m, and debt repayments of €200m. Accordingly, net debt rose from €244m at 31 March to €600m at 30 September. We don't plan any more near term buybacks as we work to finish the fiscal year with a broadly flat net debt/cash position.
Customer Initiatives
We continued in H1 to roll out customer experience improvements. Ryanair.com has become the world's largest airline website with 94% of customers visiting directly rather than via search engines. My Ryanair has grown to over 30m members in September and we should grow to over 40m by March 2018. Over half our customers now choose their preferred seat and our "Plus" fares account for approx. 7% of all sectors sold. In H1 we successfully launched Ryanair flight connections at Rome Fiumicino and Milan Bergamo. We expanded our hotels service to 5 inventory providers offering over 250,000 hotels and 7.5m rooms worldwide, and we will shortly add a travel credit incentive to reward customers using our Ryanair Rooms service.
European Consolidation
The underlying trend towards consolidation among European airlines continues. Monarch (5m pax) went bankrupt in September, followed by Air Berlin (29m) in October and Alitalia (24m) remains in bankruptcy. There are other financially troubled EU airlines who will, we believe, follow them. We are responding to these opportunities by continuing to grow in Germany where Lufthansa's purchase of Air Berlin gives them an anti-competitive 95% share of the
large German domestic market. We will add more aircraft to our UKP bases for S18 to take up any slack created by Monarch's collapse, and we continue to grow strongly in Italy where we are poised to be the main beneficiary of the inevitable contraction in Alitalia's short haul services. These trends, particularly where they allow high fare airlines like Lufthansa, BA and Air France to acquire local competitors, while constraining capacity and raising prices, can only be good for Ryanair's yield and traffic growth, as our fleet rises to 600 aircraft, and our traffic grows from 129m to 200m p.a. by 2024.
Brexit
We remain concerned at the continuing uncertainty surrounding the terms of the UK's departure from the EU in March 2019. There remains a worrying risk of a serious disruption to UK-EU flights in April 2019 unless a timely UK-EU bilateral is agreed in advance of September 2018. We, like other airlines, need clarity on this issue before we publish our summer 2019 schedules in mid-2018 and time is running short for the UK to develop a bilateral solution. We worry that the UK government continues to under-estimate the likelihood of such a flight disruption to/from the UK, an outcome that was highlighted by Air France's CEO in an interview with The Observer newspaper on 22 October.
Pilot Rostering Failure & Recovery
In early September we suffered a material failure in the management of our pilot rostering function. We are not short of crews, with over 4,200 pilots (5.2 crews per aircraft) and have hired over 900 new pilots this year to date. We operated the peak summer schedule in July & August (12.5m customers monthly) without incident. However as we entered September, a series of poor planning decisions created a perfect storm of one-off pilot shortages due to:
Over-allocated calendar months of annual leave to over half our pilots in September, October, November and December;
a bottleneck of over 200 new recruits were delayed being released to line flying by mis-managed blockages in the completion of their base training; and
an insufficient focus on short term pilot recruitment in summer 2017 to allow for a one-off spike in annual leave from September to December 2017 caused by our agreement with the IAA to transition over a 9 month period (April to December 2017), to a new-agreed-calendar year FTL cycle from 1 January to 31 December 2018.
This rostering failure caused punctuality in the first half of September to plummet to the low 70%. We responded on Fri 15 September by taking a painful decision (solely to protect the other 98% of our customers) to cancel 50 (2%) of our 2,200 daily flights for the last 6 weeks of September & October. Then on Wed 27 September we announced the grounding of 25 (6%) of our 400 aircraft fleet for the 5 month winter season from November to March 2018. These very difficult and disruptive decisions quickly restored our schedules to 90% punctuality for the 99% of customers who were unaffected by these disruptions, and eliminated any further rostering cancellations.
While we deeply regret these flight cancellations and winter schedule changes, and the disruption they caused to some 700,000 (0.5%) of our 129m customers, we have worked hard to re-accommodate or refund all affected customer requests within 18 days of notifying them. The overwhelming majority have chosen re-accommodation on alternative Ryanair flights, but we have also provided refunds, and met our EU261 obligations in full, at a cost of some €25m in H1. Additionally, we have issued every single disrupted customer a travel voucher worth €40 per sector (€80 return) redeemable in October for travel over the winter period.
This rostering failure has challenged us to address the competitiveness of our pilot pay, as well as pilot concerns about communications, career progression and basing. While our pay was already slightly higher than B737 competitor airlines, we could have responded sooner to a tightening market for experienced F.O's with pay increases for our experienced pilots, reinforcing our long standing and successful ERC collective bargaining process, and improving the range and choice of bases and contracts we offer our pilots. We will now move from being "competitive" to offering materially higher (over 20%) pay with better career prospects, superior rosters, and much better job security than Norwegian, among others, can offer. We expect these measures, if/when accepted by all our pilot bases, will add some €45m to our FY18 crew costs (and up to €100m in a full year) but will not significantly alter the substantial unit cost advantage we have over all other EU airline competitors.
Dublin Captains (from Nov & all new joiners)
 
Stansted Captains (from Nov & all new joiners)
Pay Deal
 
Norweg
RYR
 
Pay Deal
 
Jet2
Norweg
RYR
Basic
92,400
84,650
Basic
92,000
82,200
74,000
Productivity
—
12,000
Productivity
—
—
12,000
Sector Pay
31,000
45,500
Sector Pay
9,500
24,900
35,600
Expenses
—
6,000
Expenses
—
—
6,000
Pension
4,600
8,000
Pension
9,200
5,500
8,000
€128,000
€156,150
£110,700
£112,600
£135,600
22% more than Norwegian
 
22% more than Jet2
20% more than Norwegian
We are investing in new operations management which will shortly be headed by Peter Bellew returning from his successful stint as CEO of Malaysia Airlines. We have added resources to our pilot recruitment, base manager and rostering teams so that we can respond quickly to the needs of our pilots and cabin crew, promptly address their requests, and work more closely with them to facilitate opportunities at those bases where they wish to live and develop their careers. The test of any management team, is the speed and effectiveness with which they respond to a crisis, and the pilot rostering failure in early September was just such a crisis. We have responded quickly to repair this failure, eliminate further cancellations and we are determined to invest the time, money and manpower to ensure that it never recurs.
Collective Bargaining – some facts
One of the predictable by-products of this September rostering failure is a renewed campaign of misinformation by competitor airline pilot unions. Since Ryanair has, for over 30 years, operated a sophisticated collective bargaining process, supported fully by our pilots and cabin crew – confirmed and validated by the Irish Supreme Court – the only way our existing 5 year base agreements can be changed (some of which run to 2020) is by negotiation between the airline and our base ERC's. This has already taken place successfully at over 10 bases. The Stansted pilots have voted, in secret ballot, to reject this large pay increase and we will respect their wishes, and they will continue with the existing pay agreement at Stansted until 2020. We will engage with the Stansted ERC to understand any concerns they may have, even while we add over 30 new pilots at Stansted in November on these new higher pay rates. If Stansted pilots wish to reconsider or revote, they may do so at any time through their ERC. However, we will not, and cannot, be forced to meet with any outside group such as the so called EERC which like REPA (2004) and RPG (2012) is a front for competitor airline pilot unions (BALPA, IALPA, ECA and even more bizarrely some U.S. pilot unions).
Our People:
I sincerely want to thank all our people for their help and support over what has been a very difficult 4 week period in September. Our pilots, cabin crew, customer handling and customer service teams have responded brilliantly to a very difficult situation that was not of their making. Thousands of our pilots and cabin crew have volunteered to work days off to ensure that disruption to our customers was minimised. Our customer service teams have worked late and over weekends to re-accommodate those customers who were disrupted and have dealt with over 700,000 requests in just 18 days, a phenomenal performance of which we are extremely proud.
I'm sorry that our people have had to listen to misinformation about Ryanair promoted by competitor pilot unions, however we have been here before, and we will be again. We understand that the reason they wish to denigrate Ryanair is because their airlines cannot compete with us. As usual when these union airlines fail, such as Monarch, Air Berlin and Alitalia in recent months, their pilots all come to Ryanair seeking jobs that pay up to €175,000 p.a., deliver a double bank holiday weekend every week, with the best promotions record and, the best job security in Europe. We will continue to work hard to deliver for our people, our customers and our shareholders while these competitor unions will continue to rail and fail.
Outlook:
Having grown H1 traffic by 11%, the grounding of 25 aircraft means we will slow H2 growth to approx. 4%. As a result, full year traffic will slow from 131m to 129m customers.  We are 2% better booked than this time last year, but at lower fares. We now expect FY18 fares will fall by -4% to -6%, which is slightly better than previous guidance (-5% to -7%).  Ancillary spend per customer should rise by 1% this year.
Ex-fuel unit costs will be adversely impacted by €25m in non-recurring EU261 costs and some €45m of additional pilot costs (higher pay if accepted by our pilots, recruitment and training in H2) arising from the September rostering failure. We now expect full year unit costs to fall by c. 2% this year (ex-fuel unit costs will be up 3%).
Based on the above, and with the usual caveat about limited H2 yield visibility, we see no reason to alter our full year PAT guidance which remains in a range of €1.40bn to €1.45bn. This guidance, as always, remains heavily dependent on close-in H2 bookings, the absence of any further security events, ATC strikes or negative Brexit developments."
Related News
Ryanair, Europe's No.1 airline, today (1st August) celebrated the first flight from Prague to Paphos, while on Monday (3rd August) it will launch a twice weekly service to Kosice, both as part of its extended Summer 2020 schedule.

To celebrate its new routes, Ryanair has launched a seat sale with fares from 729 Kc for travel to Kosice and from 759 Kc to Paphos, both until the end of October, which must be booked by Wednesday (5th August), only on the Ryanair.com website.

Ryanair, Europe's No.1 airline, today (1st August) celebrated the first flight from Prague to Paphos, while on Monday (3rd August) it will launch a twice weekly service to Kosice, both as part of its extended Summer 2020 schedule.

To celebrate its new routes, Ryanair has launched a seat sale with fares from 729 Kc for travel to Kosice and from 759 Kc to Paphos, both until the end of October, which must be booked by Wednesday (5th August), only on the Ryanair.com website.