Government Policy and Reform
Ryanair believes the European Union should take action to:
Scrap the kerosene tax proposal, since it has no environmental benefits, but extremely negative impacts on connectivity, tourism and employment
Extend ETS to all flights departing from an EU/ EEA airport, and keep free allowances at least until 2030
Ring-fence any revenues generated by national or European fiscal measures to fund decarbonisation projects for aviation
Promote the production of SAF and make it available in the EU at competitive prices
Encourage the efficient point to point high load factor, low fare model to achieve a real and immediate reduction of aviation emissions
Engagement on Fit for 55
We engage with European decision makers to support a fair green transition of the aviation sector. In July 2021, the European Commission presented the "Fit for 55" package. Amongst this package, we welcomed the proposal to increase the use of SAF, and engaged relevant stakeholders to stress the importance of this to cut the sector's carbon footprint. We have highlighted the harmful consequences for the EU economy and connectivity resulting from other aspects of the package, e.g., the double ETS and kerosene tax charges
that apply only to intra-EU flights.
Regions Under Threat from Fit for 55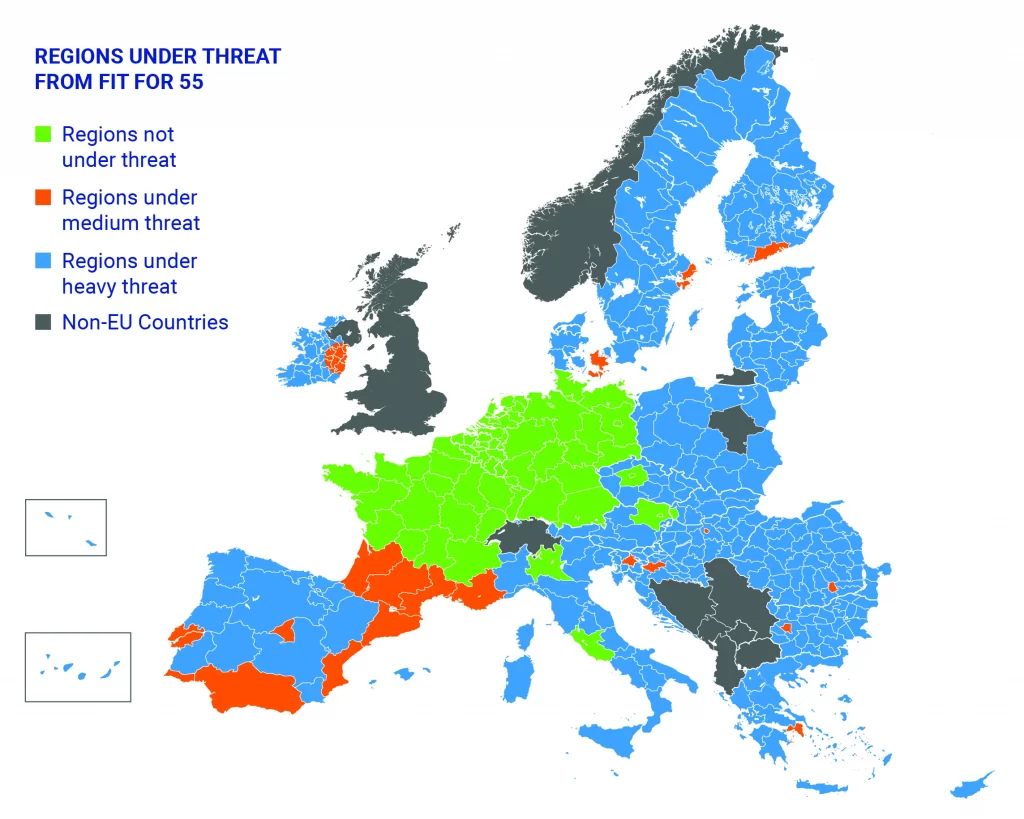 Air Traffic Management Reform
Together with other European airlines and through Airlines for Europe (A4E), we fully support the reformation of the European airspace and the completion of the Single European Sky.
The primary role of Air Traffic Management (ATM) is to ensure the safe separation of aircraft during travel. ATM impacts how high, low, fast and slow an aircraft flies and therefore the amount of fuel used. A standard, more efficient, ATM process would result in a 10% reduction in carbon emissions and bring us closer to our goal of net-zero carbon emissions by 2050.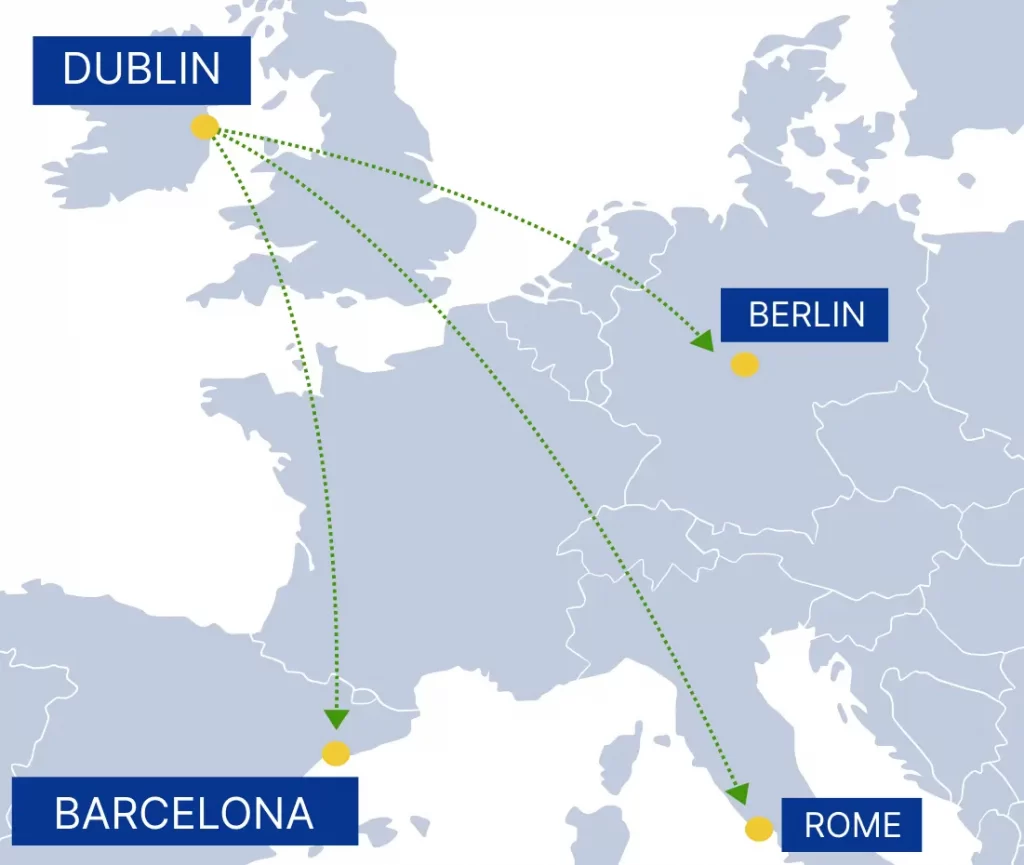 Better Air Traffic Management -10% CO2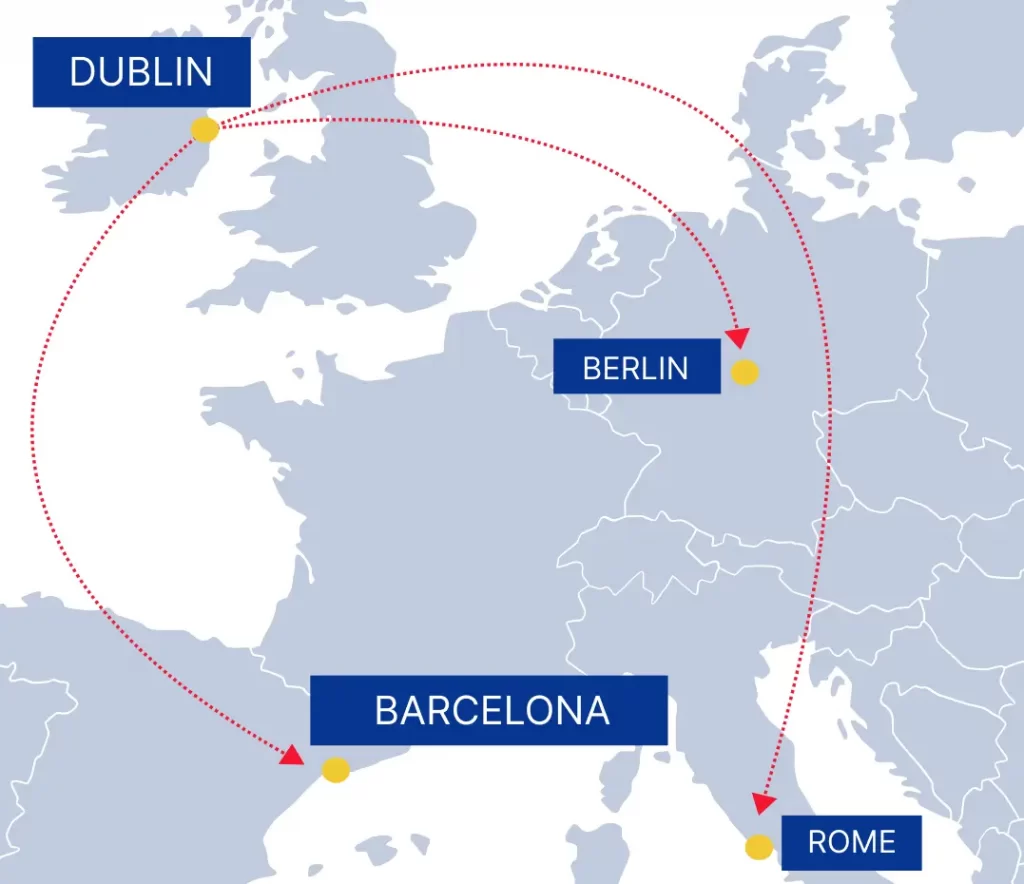 Current Air Traffic Management +10% CO2
The Fuelling Flight Initiative
Ryanair is actively working with the European Commission, the Fuelling Flight Project and industry fuel suppliers to encourage government support of the industry investment in SAF and to incentivise its use.
We support and have signed up to the Fuelling Flight Project and want to bring about policies which
promote sustainable fuels and therefore reduce aviation's climate impact, helping us to reach our net-zero carbon emissions target by 2050. The Fuelling Flight Project is a stakeholder group formed by the European Climate Foundation and the ClimateWorks Foundation. It includes industry and civil society representatives with technical support from the International Council on Clean Transportation. Its aim is to find various
ways to reduce greenhouse gas emissions, initiate and guide the growth of a European SAF industry, and
to encourage the market uptake for it.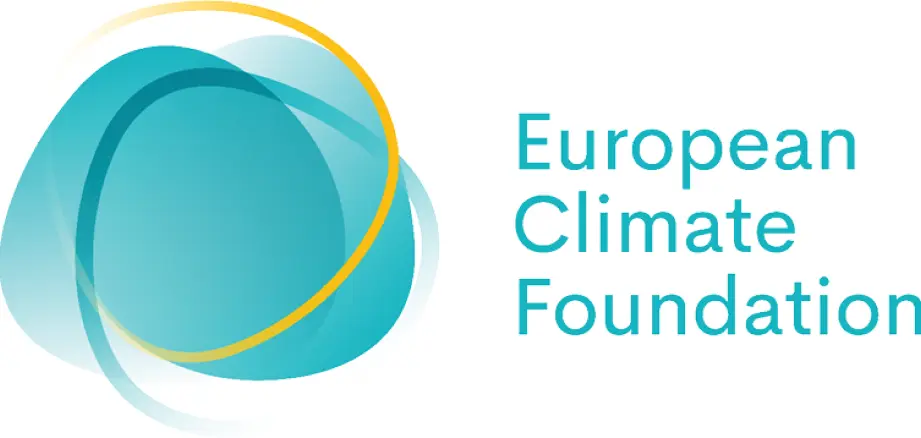 Investment certainty for the production of SAF in Europe is dependent on long-term EU policies and we are dedicated to helping to ensure these policies bring about the most sustainable fuels in the most sustainable way possible. We want to create a positive and impactful reduction in emissions by means of excluding biofuels produced from dedicated cropland and therefore avoid further competition for limited and already dedicated agricultural resources.
Aviation is not the only industry that will want to introduce more sustainable fuels. We must think outside the box and remain inventive to keep costs low, reduce competition for SAF and ensure we opt to use a fuel that can clearly demonstrate significant greenhouse gas (GHG) reductions. SAF is a very useful way to reduce carbon emissions, we simply want to ensure it is as safe and sustainable as it can possibly be.