Irish Man And Italian Woman Scoop €100k Each Following Purchase Of €2 Ryanair Charity Scratchcards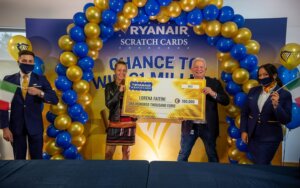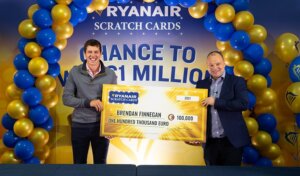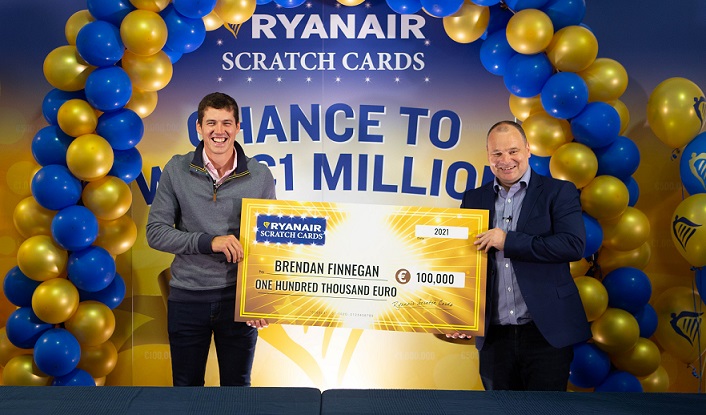 Ryanair, Europe's no. 1 airline for making dreams come true is today (11 Aug) pleased to announce that not one, but two of its lucky customers have scooped €100,000 each, having had the chance to play for a life-changing €1,000,000 in separate 'Win A Million' games. Lorena Faitini from Bergamo in Italy and Brendan Finnegan from Co. Monaghan in Ireland purchased their Ryanair charity scratch cards while flying Ryanair's lowest fares to Spain and Italy respectively, and were entered into a draw for the chance to travel to Dublin to play for €1m having revealed a 'YES' on their lucky cards.
The two contestants each played for their chance to win €1m in separate nail-biting 'Win A Million' games held in Dublin this week, scooping €100,000 each in prize winnings. Ryanair partners with some incredible charity projects and is committed to raising vital funds for its scratch card partners across Europe including The Jack & Jill Foundation, Make A Wish Italy, Kinderhilfe Germany, Naomi House & Jacksplace UK and many more. The Ryanair Foundation has contributed over €10m to designated charities across Europe and will continue supporting these long-standing partnerships that rely on the support and generosity of Ryanair's customers.
Ryanair's Director of Marketing, Dara Brady said:
"It has been a pleasure meeting Lorena and Brendan this week at our 'Win A Million' events. Ryanair has supported seven charity partners through its scratch card sales over the last 5 years – generating millions of Euro for some amazing causes. Brendan and Lorena won €100,000 each with the purchase of a €2 scratch card and leave today with life changing sums to enjoy with their friends and families.
Customers who buy Ryanair's scratch cards are also helping a range of charities across Europe, who receive ongoing donations, so look out for our scratch cards on your next Ryanair flight and you could be our next winner."
Please see reaction comments from each of the prize-winners.
Lorena from Italy said:
"I feel completely overjoyed, and may still be in some shock having won €100,000! The difference that this win will make both for my family and myself is hard to put into words. I cannot wait to host a celebration party for all my friends and family and look forward to lots of travel in the future with my winnings. I will also be in a position to close my home loan which is amazing! I purchased the scratch card on a flight to Seville as I was feeling lucky that day and sometimes dreams do come true!
The work that Make-A-Wish carry out in Italy is so incredible. Children are so special and sacred to me, and this organization would not be able to carry out the work they do without the support from charity partners such as Ryanair.
Brendan from Ireland said:
"This has been an incredible experience, one that I will never forget. Never in a million years did I think when I bought the scratch card on a flight to Italy did I picture making it all the way to this 'Win A Million' event today. I knew of Ryanair's charity partnerships with the likes of Jack and Jill here in Ireland and €2 for a scratch card is not a lot of money to part with in the name of charity. It's a win-win, I've just walked away with €100,000 for my family and my fiancée Michelle as we start our life together and these amazing hard-working charities benefit from the generosity of Ryanair and its customers.
After the year that has been, and the luck that that flight to Italy brought to me, I will be whisking my fiancée on a trip back to Italy ASAP – flying Ryanair of course!"