2 Based Aircraft, $200m Investment, 8 New Routes (27 In Total)
Ryanair, Europe's No.1 airline, today (16th Sept) announced its Winter 2021/22 schedule from Billund, opening eight
new routes (27 total) from October when it will open its new base with two based aircraft. As travel recovers to preCovid levels, Ryanair's growth continues to lead traffic tourism recovery and jobs in Denmark. The opening of this new
base in Billund – a $200m investment – will create 60 new direct jobs for pilots, cabin crew and engineers as it gears up
for more growth in S2022.
Danish families and visitors can now book a much-deserved Autumn break to one of Ryanair's eight new routes from
Billund including Brussels, Gothenburg, Lisbon, Memmingen, Sibiu, Seville, Tallinn and Wroclaw. To celebrate,
Ryanair has launched a DKK149 (€19.99) seat sale for travel until the end of November 2021, which must be booked
by midnight Saturday, 18th September on www.Ryanair.com.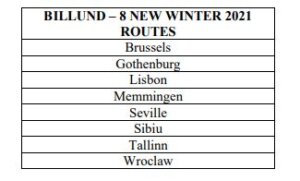 Ryanair's CEO, Eddie Wilson said:
"Ryanair remains committed to re-building the Danish aviation and tourism industry, restoring connectivity as Ryanair
continues to grow in Europe and air travel returns to pre-pandemic level. As Ryanair takes delivery of 55 Boeing 737-
8200 'Gamechanger' aircraft this Winter, we are delighted to announce these eight new routes from Billund this winter
– operating a total of 27 routes. Air traffic is set to recover strongly this Winter, and our $200m investment with two
based aircraft will support our Winter demand as consumer confidence returns.
We are launching a seat sale to celebrate the new Winter routes from Billund, with fares available from just DKK 149
(€19.99) for travel until the end of November, which must be booked by midnight Saturday 18th September 2021. Our customers can now book a Winter getaway to the likes of Brussels, Lisbon, Seville, Tallinn and many more. Since these amazing low fares will be snapped up quickly, customers should log onto www.ryanair.com to avoid missing out."
Billund Airport's CEO, Jan Hessellund said:
Ryanair's plan to reopen their base at Billund Airport is of great importance for international accessibility in West
Denmark. They bring with them 8 new routes for now, and this creates increased accessibility for the business community, and opens up new destinations all over Europe for Danish tourists. But it also plays a big part in restarting the tourism in Denmark. Billund Airport is on the doorstep of many trending tourism activities such as attractive outdoor adventures, historical city life and not least plenty of fun for the family activities. We expect Ryanair's base investment in Billund to send more than 100,000 new tourists into our hotels and attractions in West Denmark.