"This report by Transport & Environment is based on guesswork and not facts. Claims in this report that regional airports are "likely to be in receipt of state aid" is not research, it's guesswork. The airports they refer to represent less than 6% of Ryanair's 152m annual traffic.
Ryanair does not receive subsidies. We negotiate arms-length commercial agreements with our airports, which all fully comply with EU competition rules. Primary beneficiaries of Ryanair's regional flights are passengers and regional tourism – not shareholders.
Ryanair actively supports regional airports and hundreds of thousands of jobs in regional economies. Without Ryanair's services many of these airports would close down.
Ryanair is Europe's greenest/cleanest major airline with the youngest fleet and highest load factors. Our CO2 per passenger/km is 66g, half the rate of other flag carrier European airlines. Ryanair is committed to reducing this by a further 10% to under 60g per pax/km by 2030.
Ryanair paid over €540m in environmental taxes in 2018 and will pay over €630m in 2019 (up 17%). This equates to €4.12 per passenger, which is 11% of Ryanair's average air fare.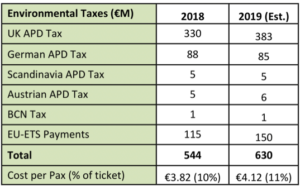 As part of Ryanair's environmental commitment, we are investing over US$20 billion in a fleet of 210 new Boeing 737 aircraft, which will carry 4% more passengers but reduce fuel burn by 16% and cut noise emissions by 40%."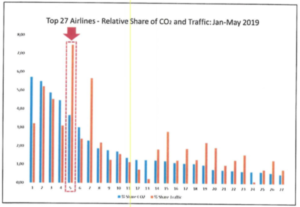 Ryanair – No. 1 for traffic while No. 5 for emissions
(Eurocontrol 2019)