Ryanair sincerely regrets receiving notice of a threatened 4 hour pilot strike (from 5am to 9am) in Germany tomorrow Fri 22 Dec. This disruption called by the VC pilot union is unjustified and unnecessary when Ryanair wrote earlier this morning to the VC (copy attached) agreeing to meet them again in Frankfurt as requested on Friday 5 Jan 2018 to progress the negotiations on a Collective Labour Agreement (CLA) for Germany.
At Ryanair's meeting with the VC and their Ryanair Pilots Council on Wed 20 Dec, the VC confirmed that the Ryanair Pilots Council had not been elected by Ryanair's pilots, and contained one former contract pilot who had not flown for Ryanair for 15 months, who is currently in litigation with Ryanair in Germany. Ryanair explained that it was happy to negotiate with its German pilots and the VC officials but it would not enter into negotiations with non-Ryanair pilots, or a non-Ryanair pilot who is in litigation with Ryanair.
Ryanair has written to its German pilots this afternoon asking them to work as normal tomorrow to avoid disrupting the travel plans of thousands of German passengers during Christmas week. Ryanair will continue to engage with the VC union and its German pilots to try to agree a CLA in early January, so tomorrow's 4 hour strike serves no purpose other than to disrupt thousands of German passengers in Christmas week solely, so that the VC can impose a non-elected, non-Ryanair pilot (who is currently suing the airline) on its Ryanair Pilots Council.
Ryanair's Robin Kiely said:
"Ryanair apologises sincerely to any German customers worried or affected by this threatened 4 hour strike tomorrow morning. We hope that our German pilots will put the needs of our customers first during Christmas week. We advise all customers in Germany to turn up as normal tomorrow, as we plan to operate all scheduled flights, and we will be doing our upmost to minimise any disruptions to the Christmas travel plans of our German customers."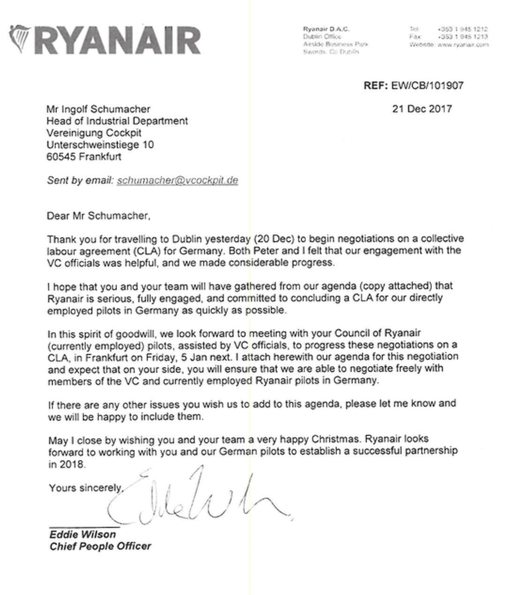 For the latest information please consult the travel updates section of the Ryanair.com website.