Latest Ryanair Charity Scratchcard Winner Takes Home Car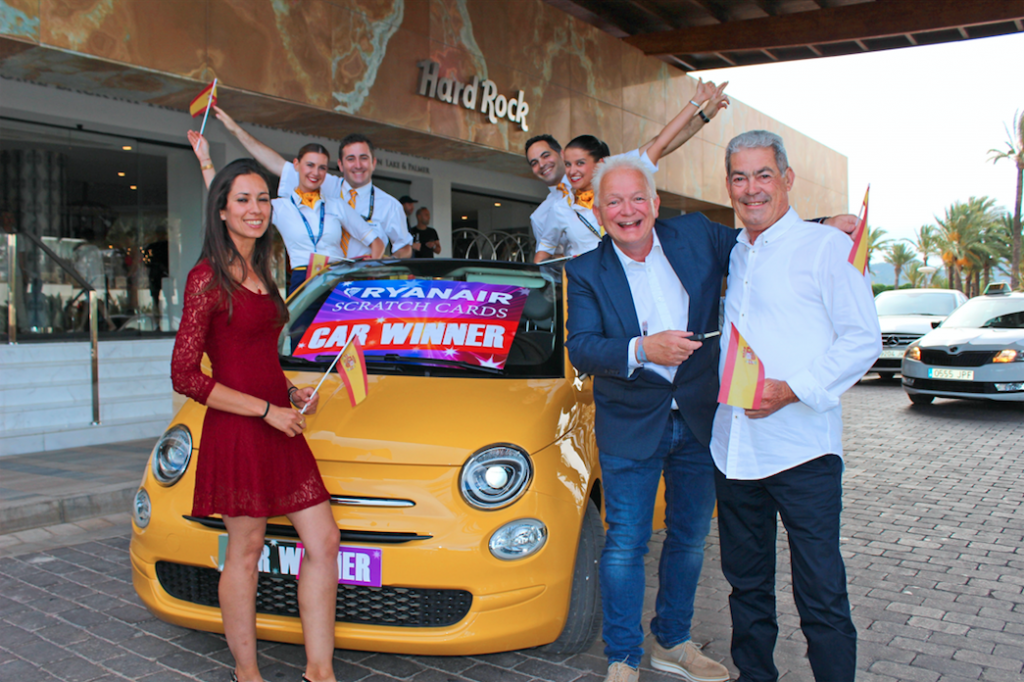 Ryanair, Europe's favourite low fares airline, today (26 Jun) made a €50,000 donation to the Spanish charity Fundación Pequeño Deseo, the latest in a series of charities to receive support from Ryanair's "Fly to Win" scratchcards.
Fundación Pequeño Deseo works with children between the ages of 4 to 18 and has granted over 4,200 wishes to sick children.
Ryanair also presented lucky customer Mr. Joan Roig Torres with a brand new luxury car, after he became the latest Ryanair "Fly to Win" Scratchcard winner.  Mr Torres, who lives in Ibiza, was presented with his prize at the Spanish Airport, joining a growing list of winning customers.
Ryanair's scratchcards offer prizes of cash, luxury cars and the chance to scoop a cool €1 million – all for a stake of just €2, with ongoing donations made to numerous charities across Europe and the UK.
In Ibiza, Ryanair's Chief People Officer, Eddie Wilson said:
"Every one of our 130m customers is already a winner thanks to Ryanair's guaranteed lowest fares and our 'Fly to Win' Scratchcards offer some fabulous prizes, including a brand new car every single month, as well as cash and the chance to win €1 million, all for a stake of just €2.
Ryanair is delighted to present Mr. Torres with his brand new luxury car here in Ibiza Airport, as he becomes the latest winner. Customers who buy Ryanair's scratchcards are also helping a range of charities across Europe, including the Spanish charity Fundacion Pequeno Deseo, who we were delighted to present with a €50,000 donation – the latest in a series of charities to receive support from Ryanair and our customers. "
Cristina Cuadrado, CEO of Fundación Pequeño Deseo said:
"Once again, we want to thank all the crew and team of Ryanair for their continuous commitment and love to our Foundation and for continuing to help us to fulfill many wishes of sick children while together providing them with joy, hope, and great strength."