Customer Carbon Offsetting
Participate in Carbon Offsetting
Ryanair is working hard on being a more sustainable airline. We are investing over $62bn in the latest aircraft engine technology and partnering with fuel suppliers to increase our use of sustainable aviation fuel. You can also support our environment by voluntarily offsetting your carbon emissions. There are two ways to contribute:
Carbon Calculator: While offering a contribution towards emissions compensation won't make the flight itself 'greener', our carbon calculator enables you to participate in a number of great environmental projects. Launched in July 2021, this option determines the carbon emissions per passenger on every route, incorporating the flight distance and our industry- leading load factor. One hundred per cent of customer contributions go to our climate projects.

Partial Contribution: Our partial offset option allows you to contribute a set amount of €2 to support environmental projects (the equivalent of compensating 50% of emissions based on our average route distance and fuel burn)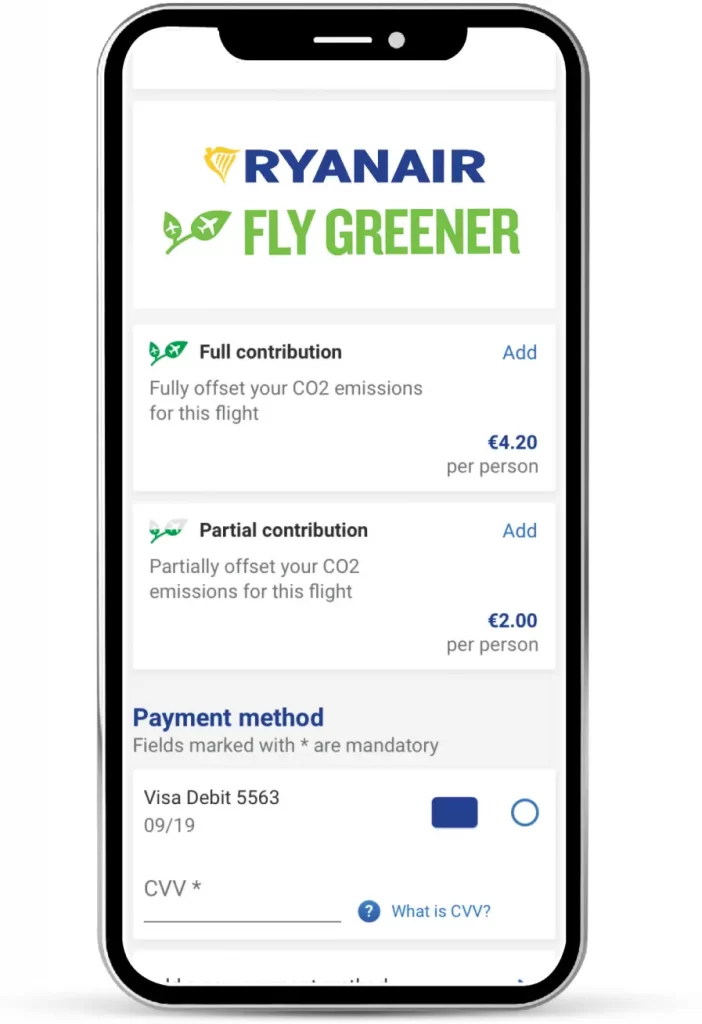 3% Of Customers Currently Offset Their Carbon Emissions
Working with Environmental Partners
Methane Capture, Bulgaria

The project at the Methane Gas Capture and Electricity Production at Kubratovo Wastewater Treatment Plant in Sofia is a methane energy generation project. The project avoids harmful decaying of organic waste. Before the project, the slurry emitted a large amount of methane into the atmosphere.
Hence, the project supports climate protection by reducing the emissions of methane and carbon dioxide. It contributes to a total reduction of 62,000t CO2 annually. The project will also directly generate clean and renewable energy in the form of biogas. This energy product will replace the electricity previously purchased from the electricity grid and from diesel fuels. Excess electricity will be fed into the power grid.
Renature Monchique, Portugal
Renature Monchique was established by Ryanair in 2019 as part of its environmental commitment to reduce CO2 emissions. It was founded in partnership with GEOTA, INCF, The Algarve Tourism Board and The Municipality of Monchique to help with the Algarve region's reforestation following wildfires in 2018, the largest ever to have hit Europe.
Thousands of hectares were destroyed and millions of euros lost. In the last 2 years, over 135,000 trees have been planted with the help of over 150 local volunteers. The project has helped 43 landowners and their families to date while ecological restoration was initiated covering an area of 584 hectares. All of this would have been impossible without the support of Ryanair's customers through our Carbon Offset Scheme.
Cookstove Project, Nepal.

The project provides disadvantaged communities in Nepal, in particular the Dalits and Janajatis with locally made mud-brick improved cooking stoves. Replacement of the traditional cooking stoves with the projects improved cooking stoves will reduce exposure of the family members to indoor air pollution and therefore result in saving of health-related expenses. Each stove disseminated under the project will potentially reduce the household firewood consumption by half.
This is a Gold Standard project which supports multiple UN Sustainable Development Goals including Life on land. Nepal's forest cover declined at an annual rate of 1.8% per year between 1980 and 2000. The introduction of improved cooking methods reduces firewood demand and helps to conserve important forests.
Kartaldagi Wind Power Plant Project, Turkey

Located near the villages of Kartalköy, Kuzoluk, Tandirli and Dermirler in Turkey's Gaziantep Province, the project entails the installation and operation of a large scale wind power plant, which will consist of 19 turbines with a total installed capacity of 46MW.
It will generate around 156,000 MWh every year. The resulting renewable energy generated will completely replace the grid electricity, which is a mix of various fuel forces, but primarily fossil fuels.